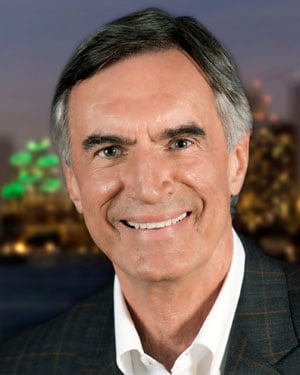 November 2015 – Roger Hedgecock
Roger Hedgecock retired from his weekday, 3-hour radio talk show on Friday, March 27, 2015, after more than 29 years of broadcasting. Roger posted the following 'message' on his website on February 24, 2015 – a month before his retirement.
A Message From Roger
For more than 29 years, I have had the privilege of hosting a daily three hour radio talk show, first at KSDO, then KOGO, and now KFMB, as well as 100 other markets, nationwide.
I have reached a transition point in my life. Friday, March 27 will be my last program.
Looking back, I have been motivated every day to live the life of Liberty guaranteed by the Constitution and engage in the free market of ideas and of opportunity and prosperity which is Liberty's harvest.
I have lived the promise of freedom, lived as an individual acutely aware of my mistakes and proud of my accomplishments, taking responsibility for my actions and putting my opinions to the test of public scrutiny. The purpose of the program has been to inspire all listeners to live life as an American, the life of freedom.
I have spoken in defense of limited government, of the rule of law, and of the rights of private property as the bedrock of our freedom.
It is greatly satisfying to know that, with this purpose, my local show remains the top rated local talk program in San Diego radio history. This despite the vehement and vocal opposition of those whose answer to any problem, real or imagined, is bigger government and higher taxes.
I will continue to speak up against those who believe government knows better how to spend the money I earn than I do, or contend that government can make choices for my life better than the choices I make.
I will always be grateful to Jim Price, the General Manager of KSDO who hired me on January 20, 1986. For that decision, Jim lost advertisers and was the subject of a lead editorial in the San Diego Union newspaper demanding that he fire me. Instead, he stood by me, the ratings soared, and new advertisers flocked to the station.
I am grateful to the producers of the program over the last 29 years, Gayle Falkenthal, Jimmy Valentine, and Brett Winterble. Without their dedication and wisdom, the program would not have been as successful as it has been.
Thanks also to Angela Bottini, engineer and associate producer who became the on air voice for young mothers everywhere.
Thanks to my agent, Brad Samuel, whose wise counsel has led to even greater prosperity.
I thank Radio America for the opportunity to expand the program to a national audience on 100 radio stations for the last six years.
Most of all, I am grateful to the listeners who challenged me, educated me, and inspired me every day.